Plan to join us for our 2016 Annual Taste the Tropics Benefit!
Come enjoy great food and live entertainment, music (with local DJ Michael Morris), children's station with hands on art, and guest presentations.
For more information, visit the event page.
About Us
Global Mustard Seed Missions Inc. is a 501(c)(3) Christian non-profit organization. We provide mobile medical care services within economically impoverished regions. Clinics are sustained by doctors who are local to the areas we serve. We currently have clinics in Haiti and Tanzania.
"Above all of things, have fervent charity among yourselves." (1 Peter 4:8, Holy Bible)
Our Name
We are called Global Mustard Seed Missions Inc. because mustard seeds are very small, but they grow to become large trees.  The Bible says, "It is like a grain of mustard seed, which a man took and cast into his garden; and it grew, and waxed a great tree; and the fowls of the air lodged in the branches of it." (Luke 13:17). Founder Charmika Schuster is just one person, but the organization she created continues to grow. We've already expanded from Haiti to Tanzania.  In the future, we hope to serve in more countries with our mobile medical clinic model.
---
Update: We have expanded from southern Haiti into rural areas around Cap Haitien in northern Haiti.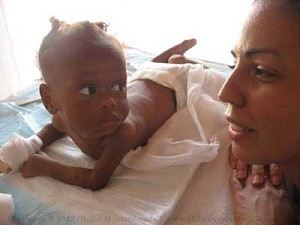 Click to read the Catholic Sentinel's article about the baby above.
---
Want To Support Us?
Financial Donation: To donate money, click the yellow "Donate" button below. The funds received go towards buying medicines, supplies, and equipment; paying clinicians who are local to the areas we serve; and fundraising. Many of the products are purchased in the local country, which helps stimulate the local economy. If you would prefer to send a check, please make it out to Global Mustard Seed Missions, Inc. and send it to: 4536 SW Hamilton St. Portland, OR 97221.  *If you donate $20 or more, we will send you a bag of Haitian Towo Supreme Coffee.*
Supplies Donation: Donations are welcome for upcoming trips and include the following: medications (prescriptions and over the counter), vitamins, iron supplements, etc., which can be mailed to: Global Mustard Seed Missions Inc., 4536 SW Hamilton St. Portland, OR 97221.
Volunteer: If you would be interested in volunteering in Tanzania or Haiti with us, please contact Charmika Schuster at charmikaschuster@gmail.com. No medical training required! Please note that your trip expenses would need to be funded by you.
Social Media
Follow us on Facebook.