In November 2012, our board submitted an application to the government to obtain 501(c)(3) status, and the IRS has now granted its approval.  Also, Global Mustard Seed Missions Inc. was officially incorporated in February 2012.

News update: We are now working in both Tanzania and Haiti.
---
Click to read the Catholic Sentinel's article about the baby above.
Mission statement
Through our Lord Jesus Christ, we provide mobile medical care services within economically impoverished regions affected by local catastrophic events. Teams are jumpstarted by volunteers but sustained by local clinicians after the withdrawal or decline of first response emergency organizations.
Please see Present link for an expansion on this scope and GMSM vision.
Thank you kindly to each of you who has donated or purchased a t-shirt/sweatshirt and made a difference in helping those in Haiti and Tanzania! This is just the start of dreams coming true.  The t-shirt design illustrated by Karen Andress,  is for the purpose of promoting much needed support and help for the Haitian people. The shirts will sell for $30 apiece with free shipping in the continental states. The available sizes are: children's small, medium, and large, and adult small, medium, large, xlarge, and xxlarge.
The funds received will go to buy medications, food, and hygiene products for Haitian orphans and patients. Many of the products will be purchased in Haiti, which will help stimulate the local economy.
"And Jesus said unto them, Because of your unbelief: for verily I say unto you, If ye have faith as a grain of mustard seed, ye shall say unto this mountain, Remove hence to yonder place; and it shall remove; and nothing shall be impossible unto you." (Matthew 17:20, Holy Bible, King James Version)
Other donations that are welcome for upcoming trips include the following: medications (prescriptions and over the counter), vitamins, iron supplements, etc. These can be mailed to: Global Mustard Seed Missions Inc., 4536 SW Hamilton St. Portland, OR 97221.
"Above all of things, have fervent charity among yourselves." (1 Peter 4:8, Holy Bible, King James Version)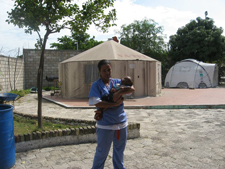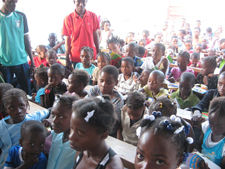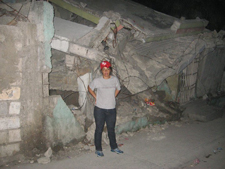 "It is like a grain of mustard seed, which a man took and cast into his garden; and it grew, and waxed a great tree; and the fowls of the air lodged in the branches of it." (Luke 13:17, Holy Bible, King James Version)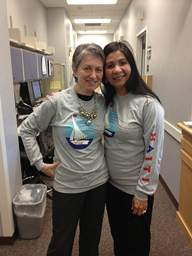 Pic: Dr. Cornelia Taylor, Medical Director, Portland
"Top Doc 2012," and Pat Michels, RN.