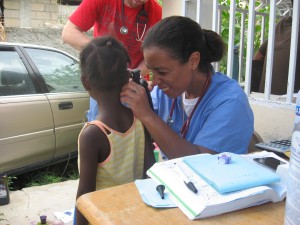 Charmika Schuster, FNP-C, MPH
Founder and President of Global Mustard Seed Missions, Inc.
Full Biography: Charmika Schuster has a Bachelor of Science in both Health Sciences Management and Nursing from Howard University in Washington D.C. She completed a Masters of Science degree as a Family Nurse Practitioner and a Masters of Public Health in Global Health Disparities.  During graduate school, Charmika traveled with her dad to Ghana, Kenya, and Tanzania. In Ghana, she helped her dad distribute mosquito nets in the large village that he adopted. She also volunteered at a hospital in Tanzania and visited an orphanage in Kenya.  Later, when she visited Haiti after the 2010 earthquake, she felt God calling her to begin her medical missionary work there.  She visited several times and was inspired to start Global Mustard Seed Missions Inc., whose mission is to work with local doctors and others in developing countries to run mobile medical clinics.  In 2012, as a result of her efforts in Haiti, she won the Oregon Nurse of the Year Award in the category of Community Health. Since 2015, Charmika has worked as a full-time nurse practitioner at the Providence Brain and Spine Institute in Portland, Oregon. Her  vacation time is spent working on this program in Haiti or Tanzania. Charmika believes the strength of her faith in Christ is what causes her mission to continue.
Please take a moment to view this amazing 2012 news story featuring Charmika and the great work that she does.
Feel free to contact Charmika at charmikaschuster@gmail.com