In Haiti, we give out handouts in Creole. They are from the Hesperian Health Guides' book "Where There is No Doctor", available online here: http://hesperian.org/books-and-resources/resources-in-creole/.
This image shows how much chlorine to add to water in order to kill unsafe biological organisms.
The image below shows weaning times.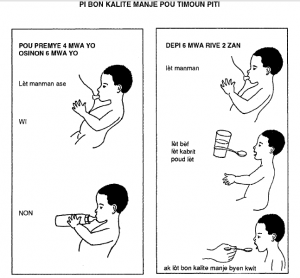 The handout below focuses on some important vitamins and minerals.
These handouts focus on diseases.
We also made a video in Creole about disease prevention: health video